Motivation
Everything started with my friday trip to the market. There where lots and lots of tomatoes and I also found some mint for which I was searching some time now. So beside the cherries I filled my bag with tomatoes and mint. Arrived at home my grandmother stuffed tomatoes came to mind so everything was set: I will make stuffed tomatoes / rosii umplute cu carne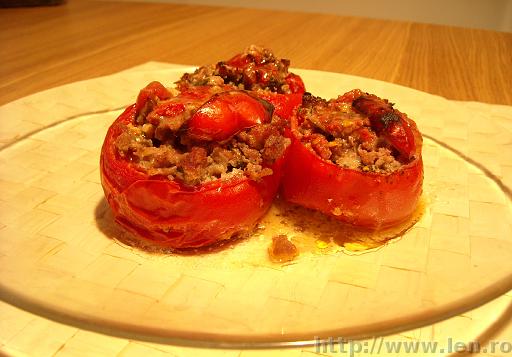 Ingredients
1.5 kg large tomatoes
300 – 500 g minced meat
1 onion
1 egg
1/3 cup boiled rice. In my case I did not used any rice because I had too much meat already and I was not very sure of the proportions
green stuff like dill or lovage. I used mint which I have to agree it's not very romanian as a habit.
Preparation
clean the tomatoes
cut the top with a knife and remove the inside with a sharp spoon, to form a cup, leave under 5 mm of tomato meat but be careful to keep the integrity of the tomato
put in a baking tin enough tomatoes to fill the tin
sprinkle the tomatoes interior with salt and pepper
separately cut and brown the onion
add the minced meat and rice and cook until the meat is 95% cooked
remove from heat
add the chopped mint, the egg, salt and pepper and mix
I've seen this recipe done with 2-3 eggs and lot of flour added but this is not a pudding
with a spoon fill the tomatoes with the mix
don't force press the meat inside
add just a bit of the tomatoes interior on the top to avoid drying up the meat on top
cook in the oven for 30 minutes
enjoy
if you wonder what to do with the tomatoes interior then you should know I mixed it in a blender with some more mint, salt, pepper and 1/2 cup water, refrigerated and used as a refreshing drink