I could find no translation for this dish but I am sure some other regional names might apply. All started when I found vine leaves for sale in a nearby market. Thus I remembered the "sarmalute" recipe. I realized layer that there is a vine growing in my backyard which I could have used with equal success. This is not a complicated recipe but it requires some time (3-4h) and a lot of patience. I suggest to do a lot of rolls as they are delicious and disappear quickly.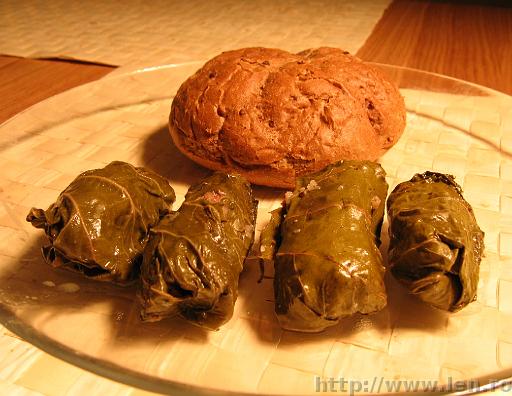 Ingredients
vine leaves, not very old, around 50
3/4 kg minced meat. I used a mix of pork, beef and sheep meat.
100g rice
spices: black pepper, 2 laurel/bay leaves (foi de dafin), coriander, summer savory (cimbru)
Preparation
clean the rice and bring it to boil in salt water
mix the rice with meat, salt, pepper, coriander and summer savory according to taste
add some oil and 4-5 vine leaves on the bottom of the cooking pan
start making rolls out of the leaves and meat. Remove the leaf tail, add the meat close to that end, fold the 2 sides and roll. Put the rolls tightly packed on the bottom of the pan. This will assure they will not disintegrate when cooking.
when a layer is finished, add more leaves and a bay leaf then a new layer on top as much as you have meat and leaves. Don't be fooled, it can take 1-2 hours to pack 3 layers of 2-3 cm rolls.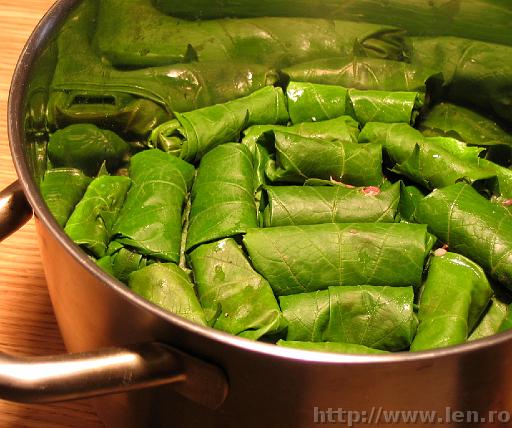 add some salt, cover with water and let it boil for 60 – 90 minutes, add water to cover at all time
when 90% ready move the pan in the oven and cook for 30 – 45 more minutes
serve with polenta
enjoy