This is a long due project using a raspberry Pi to monitor the temperature of a cabin I've been building for a very long time. I've bought the hardware almost 4 years ago and only arrived to the point where I could use it.
Motivation
Beside the geek motivation the main practical motivation is to measure inside and outside temperature in order to estimate:
degree of insulation and week points
min temperature in order to calculate needed anti-freeze mix for heating pipes
temperature monitoring for pump automation (TODO)
min temperature in order to start some electric heating (TODO)
accuracy of weather predictions for the location
Architecture
The architecture of the system is quite simple and has the following components:
the raspberry PI, model B which uses several DS18B20 sensors to monitor temperature

the piBot (this project) which is basicaly a main loop with sensors and output plugins

the vpn client over 3G in order to ensure connectivity in the lack of a fixed ip

the vpn server and db where data is stored

the visualisation which uses Grafana with a pgsql backend
piBot
PiBot is a python main loop which has a plugin mechanism for sensors and outputs (check it on gitHub). Currently I implemented:
sensor: ds18b20 which reads /sys/bus/w1/devices/%s/w1_slave data (sensor integration is present in the raspbian)
sensor: /sys/class/thermal/*/temp temperature for CPU temperature
output: csv plain output
pgsql: postgresql output in grafana friendly format
Grafana output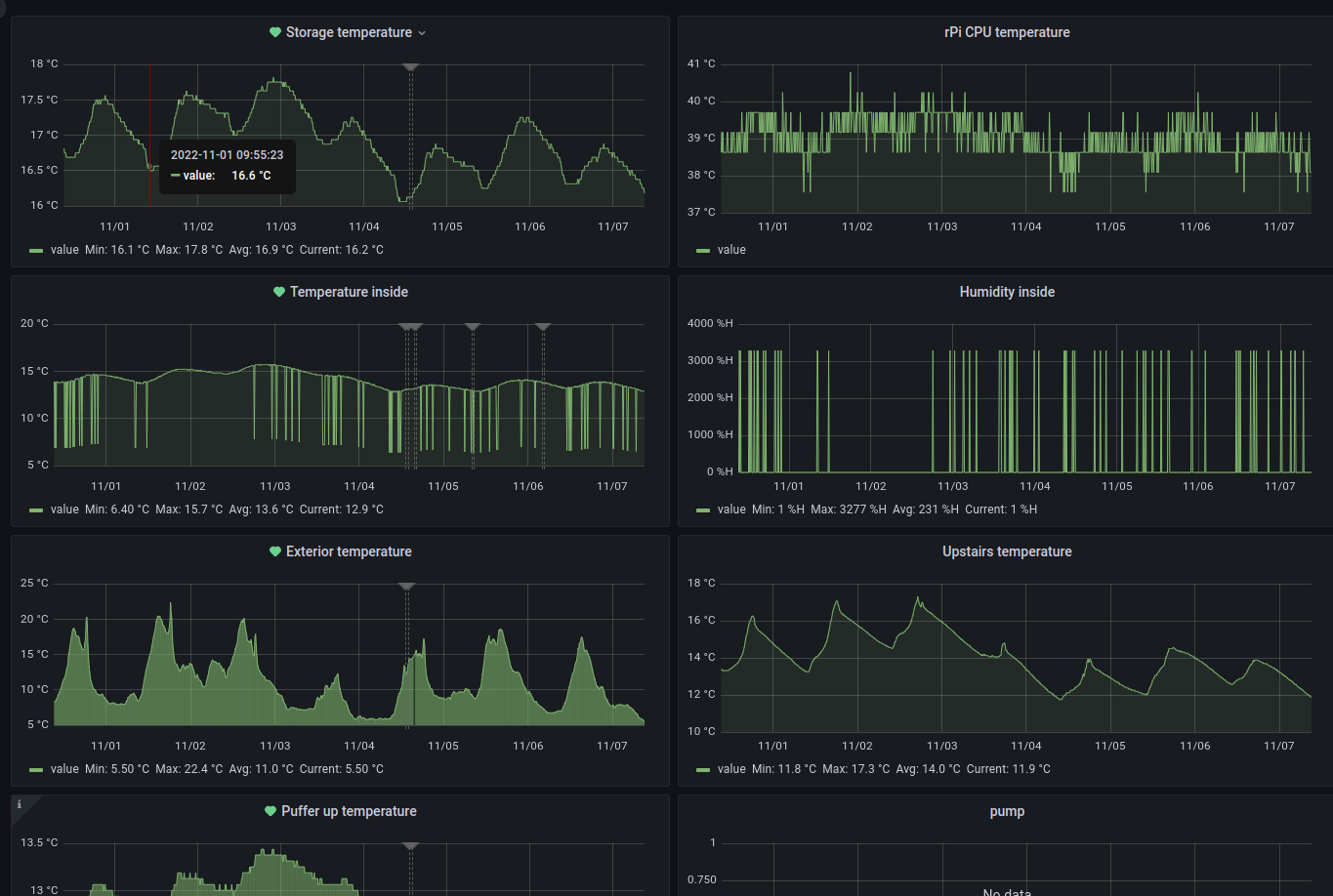 Comments:
Cata Lin -
Can you please detail about the vpn side of the project? I made a few years ago a box with a RPi, the box was recording temperature, humidity and atmospheric pressure and at given intervals, it was taking a photo (cronjobs). Then it was creating a graph for the atmospheric pressure from the last 8 hours (I was using gnuplot), then overlay the graph and current temperature / humidity on the photo (imagemagick), then upload the image on a Facebook account (IFTT, Dropbox and a script found on github) over 3G. My device was running on batteries. Device was able to send data over 3G, but due to lack of fixed IP, I was not able to connect to the device from home, I managed some connection by doing reverse SSH from device on a server from home (also not fixed IP but having dynamic DNS). Thanks!
---
Hello Catalin, sorry for my delayed response. The pi connects to the internet using a 3g modem but my provider does not even gives an external ip but rather a NAT-ed one (192.168.*). I have however a server with a fixed ip somewhere on which I have installed an openvpn server. The pi connects as a vpn client and gets a fixed ip in the vpn network. Thus I can connect via vpn from my laptop (also in floating IP), access the vpn network and the pi. Check the openvpn page for configuration.
---
Cata Lin -
Thanks, I'll give it a try!
---